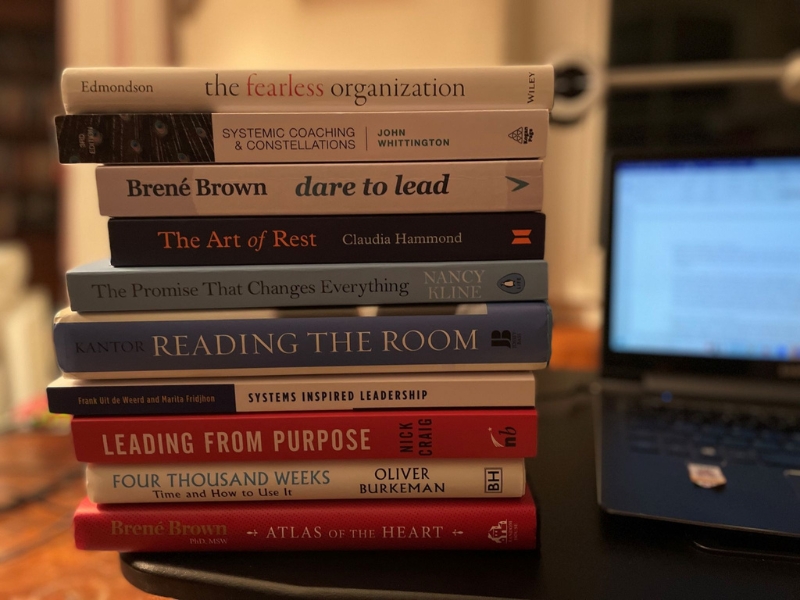 I am always seduced by books… buying yet another book recommendation, the latest publication or some new model or approach that catches my eye for the coaching work I do with leaders. You should see my extensive bookshelf. Many still remain untouched. I have decided to start a new custom in December each year and reflect on my Top 10 books of the past year which have inspired me in the work with my clients, and my own self-development and which I would wholeheartedly recommend to others.

To start this custom, here is my list for 2022 – in no particular order.

1. The Fearless Organisation – by Amy Edmonson
A book well-grounded in behavioural research and covers some great case studies. The topic of Psychological safety has appeared in almost every team coaching I have undertaken this year.

2. Systemic Coaching and Constellations – by John Whittington
A comprehensive overview of the principles and practices of constellations – looking at each relationship system to help you identify the invisible field and hidden dynamics.

3. Dare to Lead – by Brene Brown
Brene is one of my favourite authors. I love her thinking about how we frame setbacks and overcome them in a way that shows vulnerability. This book is great for leaders to cultivate a culture of courage and people showing up.

4. The Art of Rest – How to find respite in the Modern Age – by Claudia Hammond
Exhaustion, self-care and in some cases, even burn-out have been some of the topics explored with the leaders I have worked with. This book equips us with fresh research and information on how to rest more and rest better to get the most out of life.

5. The Promise that changes everything, I won't interrupt you – by Nancy Kline
Nancy´s research, philosophy, components and applications will fundamentally change the way you interact with people by creating the conditions for people to think independently for themselves.

6. Reading the Room – by David Kantor
This makes great reading for coaches and leaders around the hidden dynamics in groups. His 4 Player model helps leaders gain insight into the underlying drivers behind their most characteristic management and communication behaviours which informs how they work with individuals, teams and within organisations

7. Systems Inspired Leadership – by Frank Uit de Weerd and Marita Fridjhon
This is another book around relationship systems work. We are all operating in our own numerous systems. Systems Leadership is a topic growing in importance. Those leaders who are able to draw from the wisdom of the system and being tuned into how that system is evolving and what is emerging.

8. Leading from Purpose – by Nick Craig
Being your authentic best self is the focus of much of my coaching conversations. This book helps you to understand your purpose, find clarity and focus so that you can lead with inspiration. I particularly like the exercises around reflecting on your magical moments and your crucible challenges. Knowing your purpose and living it fully is becoming a critical principle of leadership.

9. Four Thousand Weeks – Time and How to use it – by Oliver Burkeman
2022 seems to have been a particularly crazy year where people are swamped by their long to-do lists and chores. No matter what time management solutions we implement, we will never have perfect control over how we spend our time. The 4000 weeks referenced in the title are the rough duration of the average human´s lifespan. This book gives you some great tools for constructing a meaningful life by embracing rather than denying our limitations. We are better off living more fully in the moment, rather than cramming in more tasks.

10. Atlas of the Heart – by Brene Brown
Brene´s research reveals some shocking statistics about how humans are not really able to identify with feelings. On average people can only identify 3 emotions as they are actually feeling them : happiness, sadness and anger. In this wonderful book which details Brene´s recent work, she identifies 87 emotions and experiences that define what it means to be human. She helps us to nomalises our feelings by providing safe language and descriptors.

I could go on and on… with other great books about listening, the art of asking questions, the brain and latest neuroscience research, childhood stories… but I will stop here, and start reading to prepare my list for 2023.

I look forward to receiving your recommendations …..